PLEASE BE AWARE THAT, DUE TO THE CORONAVIRUS, THE AUDITION FORMAT IS CHANGING. THIS WILL BE EXPLAINED IN DETAIL AT THE ONLINE PREP SESSION ON APRIL 20.
Dates
Audition Prep Session: April 20, 2020
Auditions: April 21 - 26, 2020
**Audition format will be fully explained at the Audition Prep Session**
Details
**Any students going into Grade 9 through graduating high school seniors are eligible to audition**
You will be dancing FIRST before you sing. Please prepare 16 bars of a song in the style of the show that best shows off your voice.
You may be asked to read a scene from the musical.
Be prepared: know what you are auditioning for, what are famous songs, who are the characters, watch the film, research productions on you tube. There are tons of resources these days to be most prepared for an excellent audition.
A current photo of yourself that can be attached to your audition for
There will be a $120 supply and program fee if cast in SATURDAY NIGHT FEVER. Scholarships are available. More information will be available at the audition registration table about what this fee covers.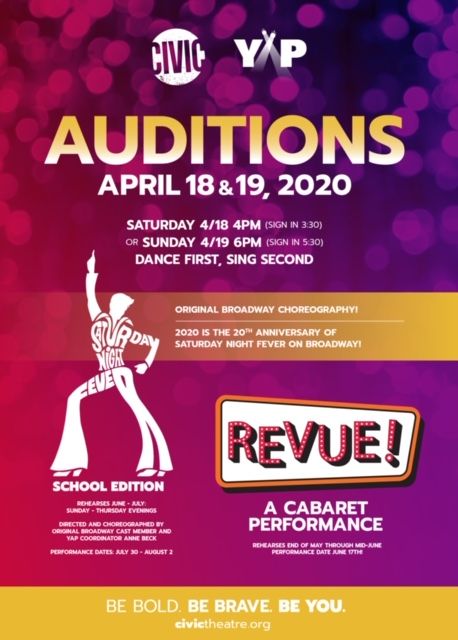 Character Descriptions Coming Soon
If you have any questions, please email YAP Coordinator, Anne Beck, at Anne@civictheatre.org
Sign up to receive emails from Civic Theatre
Be one of the first to hear news about the season and upcoming events. Register with your email address below.