Jr. Civic Company (Grades 4-8)
Admission by audition only. Previous Jr. Civic class experience (or comparable) required.
Auditions for this year's Company have concluded.
For Civic's most advanced students, Jr. Civic Company offers student actors a chance to hone their skills and expand the scope of their repertoire in a safe, professional and supportive setting. The Jr. Civic company is dedicated to the development of good technique regardless of performance opportunity.
Company members act as outstanding representatives for Jr. Civic and Civic Theatre in the community-at-large. Auditions in August are open to students grades 4-8 with previous class experience.
Prerequisites:
Members must have completed at least one from the following list:
Previous Jr. Civic Company member
Jr. Civic Mainstage Musical Cast
Jr. Civic Musical Theatre Camp
Any Intermediate or Advanced level class
At least two sessions of Musical Theatre Essentials or Fundamentals of Acting

*Any students without Jr. Civic experience must supply a detailed resume or listing of their experience with other specialized training and/or stage experience.
*Admission into the Company is at the discretion of the directors despite any previous experience.
Showcase: Each spring, the Company will present a Showcase of material learned throughout the season.
Company Travel: The Company will make a trip to New York City in June of every other year. Our next trip will be in the summer of 2024. Expense of this trip is in addition to any participation fees and parents and siblings are invited to join.
YOUR 2023-2024 JR. CIVIC COMPANY MEMBERS ARE...
Avery Benner
Lily Brenner
Lily Carlstedt
Evan Cohen
Ivy Hess
Lawson Leavell
Kaitlin Malarsky
Tommy McConnell
Jack McNally
Olive Rozzi
Riley Sutton
Claire Kashman
Liv Keslin
Hadley Wilkinson
Noah Achterberg
Carter Beth
Nate Boyce
Quincy Carman
Jackson Duncan
Talia Fine
Harper Gibbs
Addie Giesting
Lexie Vahrenkamp
Abigail Mickelson
London Rayner
Ashlyn Singh
Louisa Zabel
Elizabeth Rabuck
Dylan Acquaviva
Tyler Acquaviva
Ethan Mobley
Matilda Hayes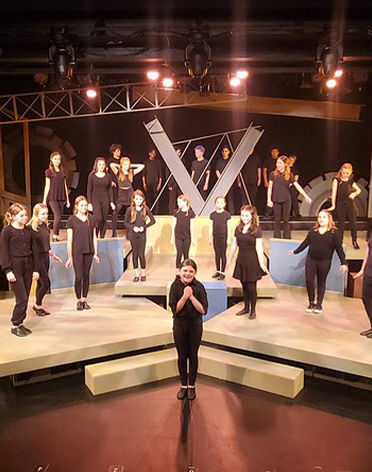 Class Dates
Fall Session:
Wednesdays | September 6 - December 13, 2023

4:30 - 6:30 PM
Spring Session:
Wednesdays | January - June (plus additional rehearsals before Showcase)

4:30 - 6:30 PM
Sign up to receive emails from Civic Theatre.
Be one of the first to hear news about the season and upcoming events. Register with your email address below.