Storytime With Civic
Theatre education promotes success in school and beyond, developing skills in collaboration, sequential thinking, listening, language arts, self-confidence, personal expression, and empathy for others.
Storytime with Civic has a three-part structure based on well-established Jr. Civic programming, engaging child care centers of all kinds through different levels of involvement. The program includes an interactive
Artist in the Classroom A one-hour session at your school's facility with a Jr. Civic artist-instructor
Backstage Pass An interactive backstage tour at the Tarkington at the Center for the Performing Arts
Attend a Children's Show and tickets to a Civic children's production in the Tarkington — either THE CAT IN THE HAT (February) or the Jr. Civic Musical (June)
The cross-curricular nature of theatre promotes learning in fine arts, language, math, and science as they learn about visual and performing arts, storytelling techniques, and the simple machines used to execute onstage magic. Each lesson will prepare children for success, building a firm foundation for further academic achievement.
If you are interested in participating in Storytime with Civic, please contact our Education and Administration Associate, Karaline Feller, at outreach@civictheatre.org or 317/853.6327.
Artist in the Classroom
45 minute lesson (minimum 15 students)
Preschool and Pre-K classes
$8 per student (2 chaperones per each group attend for free)
Explore the connection between literature and theatre with one of our professional actor/instructors at your facility for a one hour visit. The Storytime visit is designed to use popular children's literature as a springboard for a variety of hands-on, interactive activities emphasizing the relationship between literature and theatre.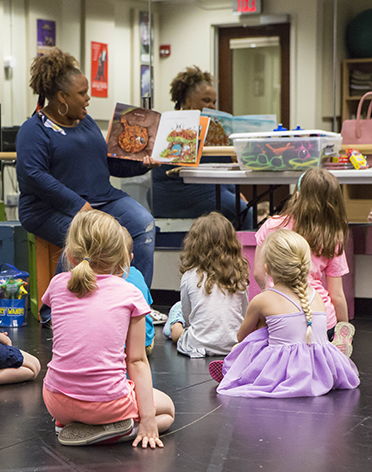 Class Dates
Summer Session:
Please contact Karaline Feller at outreach@civictheatre.org or 317-853-6327 to schedule a visit.
Backstage Pass
1 hr. tour (limit 30 students per tour, minimum of 15)

Age 4 and up

$5 per student (2 chaperones per each group attend for free)

Get a behind-the-scenes look at how a theatre works! A sound and light demonstration, a visit to the stage, a backstage tour of the theatre and an abbreviated acting class are also included.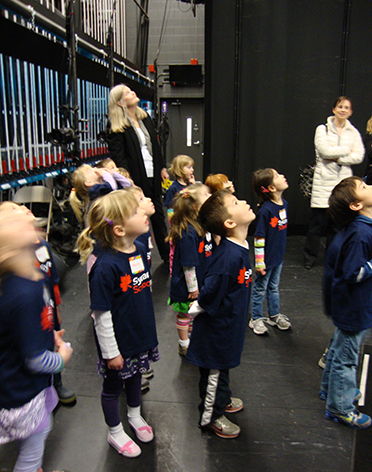 Class Dates
Summer Session:
Contact Karaline Feller at 317-853-6327 or outreach@civictheatre.org to arrange for a Backstage Pass field trip.
Sign up to receive emails from Civic Theatre
Be one of the first to hear news about the season and upcoming events. Register with your email address below.